Yellow wild flowers on Moc land
2014-04-18T04:25:19-04:00
2014-04-18T04:25:19-04:00
http://mocchautourism.com/en/news/Introduce-destinations/Yellow-wild-flowers-on-Moc-land-13.html
http://mocchautourism.com/uploads/news/2012_11/hoa-dong-moc-chau-11.jpg
Moc Chau Tourism
http://mocchautourism.com/uploads/logo_1.png
Late fall, canopy peach, plum leaf bare, chat chiu plastic drop by drop through the winter to feed the spring buds waiting to, the gold leaf oval drop clusters flirting with the wind ... All plants withdrawn to keepwarm, survival before the harsh cold of the European winter wood. The only wild bunch of wild sunflowers is extraordinary.
Spring coming, peaches, plums unobtrusive beauty loving, his pure, wild sunflowers just a dried branches, thin, black race, wilt than. Summer, fall back to the wild sunflowers new green stem stabbed. Nobody noticed it, trees do not grow to the fence, the wild side of the road. Green tea breaks, smooth grass hills ... eye-catching one than other roadside trees.
Only when winter starts to northeasterly winds rushing back with spells of frost, fog, new wild sunflowers bloom, but very bright, lovely.This seemingly flowers youngest ceded to the brothers, sisters peaches, apricots, plums, board,
Ban flower, Queen 's Crape-myrtle, Phoenix- flower...show all then spoke.
Day is usually simple, but in the majority of wild sunflowers put on his bright yellow-color-light of the sun down. Between the gloomy winter days, drought, frost white as milk, silver, largely absent, unreal. ... And ... the yellow wild sunflowers bloom clusters, only flickers, but radiant, bright Prairie was immersed in fog.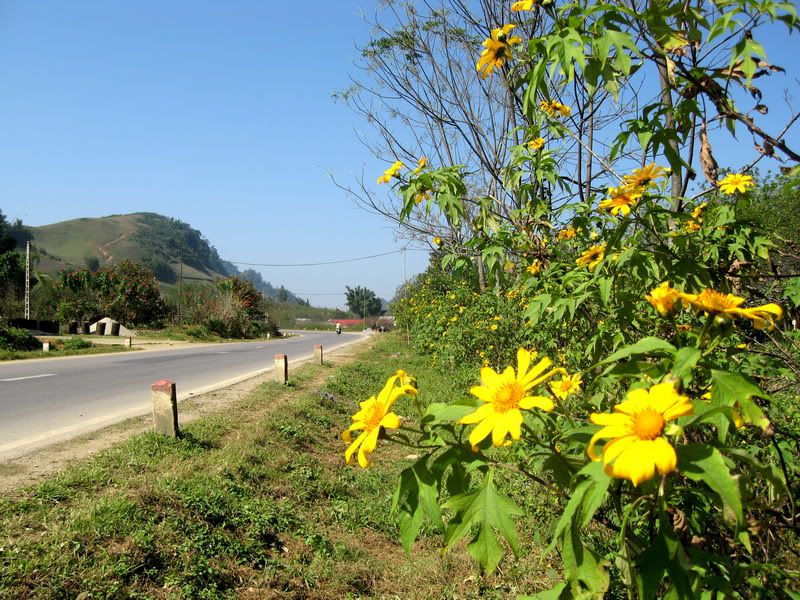 Days of sunshine, the dew sparkling gems, thin leaves 3-lobed, five-lobed close as soft fingers. Each breeze, the soft trunk weak surf tilt about, as ring finger waving offerings. When suddenly, the gray clouds turn inspired high end, revealing a patch of sky with brilliant sunshine. Crowd wild sunflowers as fresh flowers, flowers towards the sun as sucking each light on both sides.
Many people protect fragile wild sunflowers, fast dry, no flavor. Not, wild sunflowers flavor not warm milk like flowers, sunny day, standing in the middle of wild sunflowers bloom dust, close your eyes, breathe deeply will find once helped ease flavor, sometimes alone but always remember ...
It is true that life is not for anybody all, do not get everything. If you do not have a chance to visit Moc Chau each spring, autumn and winter take a bit of time to warm your with brilliant wild sunflowers.
Tips you.
- This is the most beautiful time of wild sunflowers in Moc Chau. You can stop at any point along the road on Highway 6, the from Long Luong more. However, the wild sunflowers in the town area of Moc Chau Farm, we grow into the roadside crowd, can be easily found by brilliant yellow.
- If you like exploring you can turn on small roads in sub-advanced-farm town of Moc Chau, 14 sub-areas of Moc Chau (almost opposite the new administrative center of the district) ...
Note: The above article reprinted at the website or other media sources not specify the source https://mocchautourism.com is copyright infringement
Newer articles
Older articles
(15/11/2012)
(03/10/2012)